Ottawa Car Detailing Services
Car detailing, otherwise referred to as auto detailing, is the art and craft of professional cleaning and restoring a vehicle to like-new condition. It's commonly mistaken for car washing but differs in its more precise and labor intensive cleaning process that can include both exterior and interior cleaning.
Detailing services can come in a wide variety of different packages and will commonly include services like: vacuuming, steam cleaning, perfuming, and scrubbing for the interior and washing, paint claying, polishing, and waxing for the exterior. If you want to get your car to look and feel like new from the inside out, then auto detailing is what you're looking for. Contact us today to learn more about our services and different detailing packages!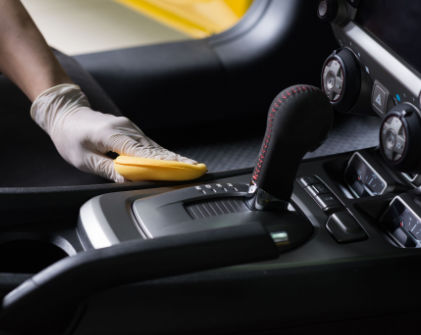 SILVER
BRONZE
GOLD
ADDITIONAL DETAILING
SILVER
Our Silver Package is ideal for an overall detail & deep paint clean with some extra added protection.
A professional interior detail & rejuvenation is included.
Foam Cannon
Rim/wheel-well/tire cleaning & shine
Door-jamb & rim wipe-down
Chamois Dry
CLAY BAR PAINT DECONTAMINATION
Deep cleans exterior painted surfaces
Helps remove road debris & brake dust buildup
Provides 1 year of added hydrophobic layer to the exterior of vehicle, protecting from paint damage. 
Rubber mats power sprayed & conditioned
Steam clean & anti-bacterial shampoo (seats, floors, fabric mats & trunk)
Tornador anti-bacterial detail (dash, centre console, door panels & leather seats)
Post-shampoo vacuum (seats, floors, mats & trunk)
Vinyl/leather conditioning 
Clean Windows
LED light inspection & look over
Car | starting at $435
SUV | starting at $475 + $50 for 3rd row
BRONZE
GOLD
ADDITIONAL DETAILING
Please note that the condition of every vehicle varies, therefore we thoroughly inspect each and provide a final service quote prior to commencing any service.
All prices listed herein are subject to change and do not include taxes. Additional charges may apply for vomit, feces, and bodily fluid removal (starting at $150).
We require that all personal and valuable belongings are removed prior to services as we are not responsible for any lost items.
Service times may vary.
The Benefits of Auto Detailing
Why Get Your Vehicle Professionally Detailed?
Running your car through a car wash might clean the exterior of your vehicle, but it won't keep your car in pristine, like-new condition like a detail would. Some of the main benefits of getting a professional detailing include: 
High-Quality Clean – Get rid of any and all signs of dirt, debris, stains, and odours with a professional detailing.
Increase Resale Value – Detailing is the most cost effective way to increase the value of your vehicle before listing it for sale.
Driving Satisfaction – Nothing feels better than driving around and showing off your perfectly clean and shiny car.
Preservation – Preserve your paint job and interior upholstery by getting your car cleaned with protective solvents.
Professionalism
We have been emersed in the auto-
detailing industry since 2004, so we have
every confidence that we can provide our
customers with world-class service in every
area. With our professional approach, you
can rest easy knowing you will get exactly
what you need from our team of certified
autocare experts.
CUSTOMER
CONVENIENCE &
SATISFACTION
Our team is here to make your autocare
experience simple & positive. When you
return to pick up your vehicle, we complete
a walk-through of your service to ensure
the upmost satisfaction in our work. We're
not happy unless you're happy. We also
provide a loaner vehicle for our Ceramic
Coating & PPF services so you can continue
on with your day, hassle-free.
Pride
& Passion
Each one of our team members has a
serious passion for the automotive
industry. We believe this shines through
in our work on each and every vehicle,
no matter the year, make or model. Our
pride in the final product ensures you
will receive each service to the highest
of standards and drive away happily.
Frequently Asked Questions