What can't be said about having a clean car, other than a big smile on your face as your driving down the road!  Through the lens of most customers, automotive services and their associated costs can be similar to a trip to the dentist. No one likes it! For car detailing services this can be cast in a similar shadow. However, there is an added benefit of the potential to increase your ROI when it comes time to sell your vehicle!
How Car Detailing Can Increase Resale Value
First impressions matter when selling a car, and car detailing can help make your car look its best from the outset. Detailing is a comprehensive cleaning and restoration process that goes beyond a simple car wash.
By investing in detailing services, you can create a car that looks and feels like new. This can have a significant impact on the perceived value of the vehicle – in fact, according to a recent article by Bench mark auto appraisers.com a clean car is one of the most important factors when it comes to appraisal . By improving the appearance of your car, you may be able to attract more potential buyers and command a higher price.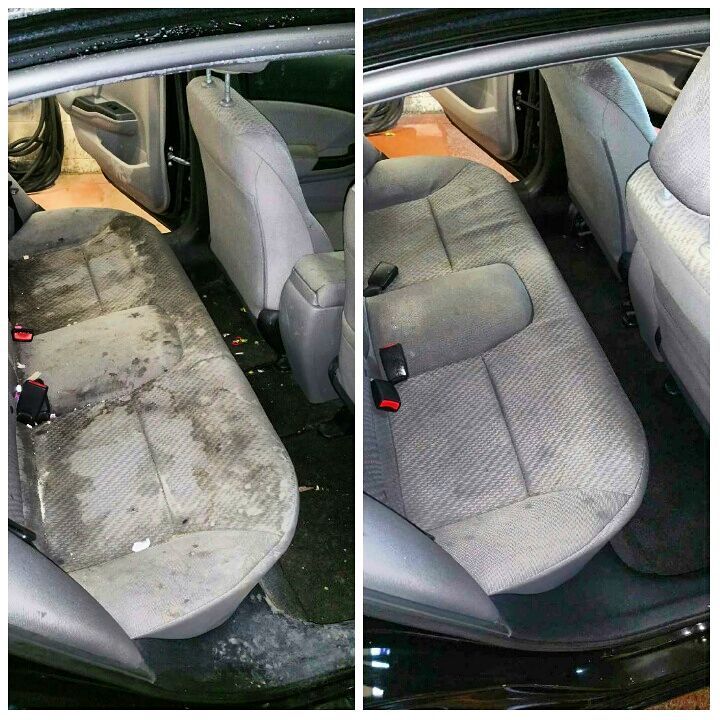 The Importance of Regular Vehicle Detailing
In addition to routine maintenance, routine car detailing can also help preserve the condition of your vehicle. Regular cleaning and protection of your car's exterior and interior can help prevent damage from dirt, UV rays, and other environmental factors. This is especially important for cars exposed to harsh conditions like salt on winter roads or intense sunlight in hot climates.
When selling a vehicle, establishing trust in the sales process requires you to demonstrate your level of care and maintenance of your vehicle. Demonstrating that you trust professionals to detail, clean, and care for the protection of your vehicle shows potential buyers that you are a reputable seller who took care of their vehicle. Providing maintenance records and showcasing a detailed interior and exterior can instill confidence, fostering a sense of transparency that's akin to honesty.
Types of Car Detailing Services to Maintain High Resale Value
Exterior Detailing
Regular exterior detailing services like hand washing, waxing, and polishing can help protect your car's paint and prevent damage from dirt, debris, and UV rays. Applying a high-quality wax or sealant can create a protective barrier against the elements and enhance the shine of your vehicle.
Interior Detailing
Maintaining a clean and well-maintained interior can help preserve the value of your vehicle and make it more attractive to potential buyers. Interior detailing services can include vacuuming, steam cleaning, and leather or vinyl conditioning to remove stains and odors and restore the look and feel of your car's upholstery and interior surfaces.
Paint Correction
A professional detailer can perform paint correction services to restore the look of your vehicle's exterior if it has scratches, swirl marks, or other paint imperfections. This involves using specialized tools and products to remove scratches, buff out paint imperfections, and create a smooth, flawless finish.
Ceramic Coatings
Ceramic coatings provide long-lasting protection against the elements and enhance the shine and depth of a car's paint. They create a semi-permanent bond with the vehicle's paint, creating a hydrophobic layer that repels water, dirt, and other contaminants.
Headlight Restoration
Headlight restoration services involve using specialized tools and techniques to remove the outer layer of damaged plastic and restore the clarity and brightness of your headlights. This not only enhances the appearance of your vehicle but also improves the effectiveness of your headlights at night.
Protective Film
Not necessarily detailing but applying a protective film to your car's headlights can help prevent damage from UV rays, debris, and other environmental factors.
Professional Care Detailing at JREK Auto Care
Investing in car detailing services can have a significant impact on the resale value of your vehicle. Detailing services not only improve the appearance of your vehicle but also suggest to buyers that the car has been well-cared for and is less likely to have hidden issues or defects. Regular detailing services, like exterior and interior detailing, paint correction, ceramic coatings, headlight restoration, and protective film application, can help maintain your car's value over time by protecting it from environmental damage and improving its aesthetic appeal.
It is clear that car detailing services can give your re-sale a "pop" in price at the end of your ownership. On the other hand, seasonal detailing (paint protection and interior steam-cleaning) will help preserve the aesthetic lifespan of your vehicle and may extend your overall appreciation for your vehicle – lending to owning it longer than otherwise envisioned! 
By investing in car detailing, you're investing in the overall presentation of your vehicle, optimizing its appeal and increasing the chances of securing a successful sale
At JREK Auto Care, we provide customized detailing solutions to meet your unique needs and help you maximize the resale value of your car. If you're interested in learning more about our services or booking an appointment, please don't hesitate to contact us. We can help you maximize the resale value of your car and ensure that it continues to look and perform its best for years to come.