What is Paint Protection Film?
Paint Protection Film & PPF Wraps in Ottawa
Paint protection film (PPF) is a thin layer of flexible material, carefully placed over various parts of a vehicle to protect against surface level against stone chips, fading and cracking. It's a popular choice for adding an invisible layer of protection for your vehicle to protect either a new or an original paint job.
We believe in using only the best products in our shop, which is why we are certified 3M & STEK installers, allowing us to offer manufacturer, warranty-backed protection up to 10 years.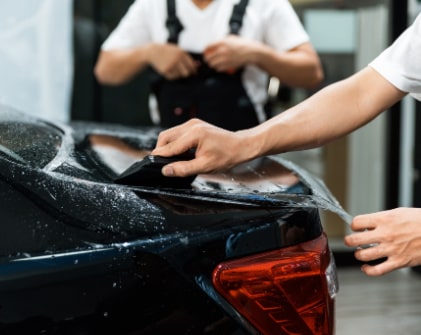 ULTIMATE
COMPREHENSIVE
BASIC
ULTIMATE
Our ultimate paint protection film package protects your entire vehicle's front end against stone chips, stains and scratches. The top-of-line package for total front end stone chip prevention.
Maintenance free
Stain & fade resistant
Can be removed easily
Complimentary loaner vehicle available
Maintenance free
Stain & fade resistant
Can be removed easily
Complimentary loaner vehicle available
Full hood
Front bumper
Fenders
Full hood
Front bumper
Fenders
COMPREHENSIVE
BASIC
Please note that the condition of every vehicle varies, therefore we thoroughly inspect each and provide a final service quote prior to commencing any service.
All prices listed herein are subject to change and do not include taxes. Additional charges may apply for vomit, feces, and bodily fluid removal (starting at $150).
We require that all personal and valuable belongings are removed prior to services as we are not responsible for any lost items.
Service times may vary.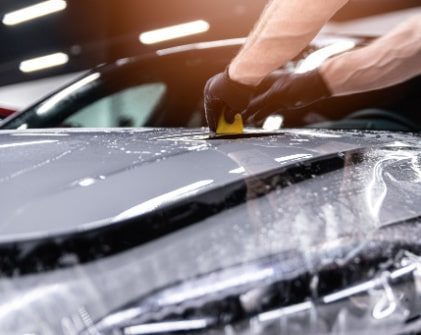 The Benefits of Paint Protection Film
Why Get PPF Film For Your Vehicle?
There are several benefits of installing a paint protection film for your vehicle, including:
Custom Finish – Paint protection film is a clear material that can vary in standard, matte, or gloss finishes.
Layer of Protection – A PPF wrap provides a superior level of protection for you vehicle against chips, scratches, and corrosion.
Self-Healing Properties – Paint protection film can easily be repaired by applying high levels of concentrated heat to the damaged area.
Temperature Resistance – A PPF wrap acts as a shield against IR & UV radiation – protecting your vehicle against sun damage.
Professionalism
We have been emersed in the auto-
detailing industry since 2004, so we have
every confidence that we can provide our
customers with world-class service in every
area. With our professional approach, you
can rest easy knowing you will get exactly
what you need from our team of certified
autocare experts.
CUSTOMER
CONVENIENCE &
SATISFACTION
Our team is here to make your autocare
experience simple & positive. When you
return to pick up your vehicle, we complete
a walk-through of your service to ensure
the upmost satisfaction in our work. We're
not happy unless you're happy. We also
provide a loaner vehicle for our Ceramic
Coating & PPF services so you can continue
on with your day, hassle-free.
Pride
& Passion
Each one of our team members has a
serious passion for the automotive
industry. We believe this shines through
in our work on each and every vehicle,
no matter the year, make or model. Our
pride in the final product ensures you
will receive each service to the highest
of standards and drive away happily.
Frequently Asked Questions
Paint Protective Film FAQS